Dr. Amit Patodiya : Experience
Dr. Amit Patodiya is having experience of more than 10 years and journey of his experience still continue and increasing day by day.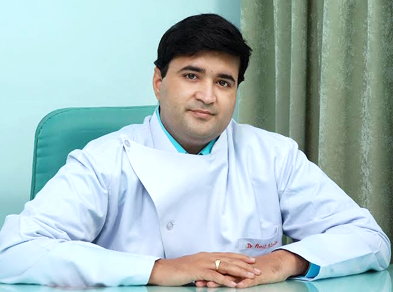 I.D.A., Ajmer, Rajasthan
Lecture given on "Creating beautiful smiles" on 27Th July 2014
Famdent 2010
Lecture given on "Direct Composite Veneer" on 5th June 2010 at Mumbai
IDA, Asansol, West Bengal
Lecture given on "Post & Core" on 31st January 2010
Famdent 2009
Lecture given on "Post & Core a hope of salvation" on 25th July 2009 at New Delhi
I.D.A., Himachal Pradesh
Lecture given on Single Visit Endodontics on 21st February 2009 at Mandi, Himachal Pradesh.
I.D.C., Nagpur
Lecture given on "Beautifying the composites : an art less known by" at 62nd Indian Dental Conference, on 13th February, to 15th February 2009 at Nagpur.
A.I.C.O.G., Jaipur
Lecture given on "Pregnancy related problems and their Management" at 52nd All India Congress of Obstetric & Gynaecological Societies of India on 7th January, 2009 at Jaipur.
Toxics Link, New Delhi
South Asian Conference on Mercury in Healthcare 5th December 2008
National Conference of IAACD at Goa
Participated in Symposium on Bonding Systems. on 26th to 28th September 2008 at Goa.
National Conference at Mount Abu
National Conference on Current Trends on Dentistry & Meditation Retreat, 19th to 23rd September 2008. Mount Abu – 2 Lectures
1) Practice Management, 2) Aesthetic Dentistry
A.M.U., Aligarh Dr. Ziauddin Ahmad Dental College, Aligarh
Lecture given on Aesthetic Dentistry, Post & Core and Endodontics on 28th April 2008
I.D.A., Kota
Indian Dental Association, KOTA invited for giving a Presentation on Oral Implant on 4th August 2007.
I.D.A., Patiala
Lecture given on 'Composites' at CDE Programme organized by IDA in support of Coltene Whaledent on 8th July, 2007 at Hotel Harbansh, Patiala.
I.D.A., Noida
Lecture given on "Recent advances in Dentistry" at CDA Programme organized by IDA in support of Coltene Whaledent on 26th March, 2006 at Hotel Radisson, Noida.