IMPLANT SUPPORTED DENTURES
Implant supported Denture are a way to replace teeth when all of the teeth are missing in the upper and lower jaw
Traditional dentures can sometimes cause gum irritation, require time-consuming maintenance, and move, slip, or even fall out of your mouth. Our experienced cosmetic dentist Dr. Amit Patodiya can alleviate all the problems, you are experiencing. Implant supported dentures, basically affix your dentures to the jawbone, allowing for a more comfortable and strong fit. After this procedure, your dentures can look and feel more like a natural, permanent part of your mouth.
If you are interested in learning more about implant supported dentures, or if you would like to schedule a consultation, please visit Meera Dental Hospital today.
BENEFITS OF IMPLANT SUPPORTED DENTURES
Anchored dentures can be an effective treatment option for many patients who are looking for an alternative to traditional dentures. There are many benefits to implant supported dentures, including:
Eliminates the need for messy adhesives
Prevents dentures from slipping out of place
Increased comfort and denture stability
Easy maintenance – you do not have to remove dentures to clean them
Restores teeth functionality and the ability to eat and chew normally
Minimizes gum irritation
A more natural look and feel
INDICATIONS
Severe morphologic compromise of denture supporting areas that significantly undermine denture retention.
Poor oral muscular coordination
Low tolerance of mucosal tissues.
Perafunctional habits leading to recurrent soreness and instability of prosthesis.
Active or hyper active gag reflex elicited by a removable prosthesis.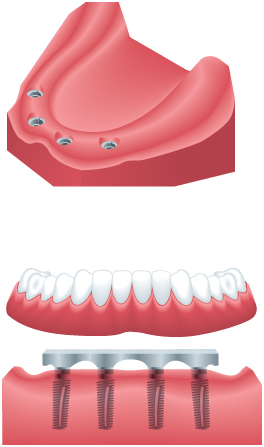 During your first appointment, Dr. Amit Patodiya will assess your jawbone density and overall oral health, utilizing our advanced 3D X-Ray technology. All candidates for implant supported dentures need to have strong, adequate jawbone density in order to successfully anchor the dental implants. Once it is determined to move forward with treatment, we will create a mold of your mouth to assist us in creating a unique, custom prosthesis. Titanium posts are then surgically placed into the bone tissue to simulate a tooth "root," which, over the next few months, should completely fuse to the jawbone and ultimately serve as a permanent, stable support for the denture. We use advanced technology from Nobel Biocare to provide rapid fusion between the implant and the jawbone for quicker restorative results and exemplary stability.
With implant supported dentures, you can expect to have new teeth that look and function much like your natural teeth. You can also clean and maintain your teeth the same way in which you maintain your natural teeth through regular brushing, flossing, and routine check-ups with your dentist.
Learn More
If you have any questions about implant supported dentures, or if you are interested in scheduling a comprehensive consultation with Dr. Amit Patodiya, please contact us.